The Mariner's Concierge:
Ongoing 2017

Hey boaters - It's no fun when you run out of ice, food or beverages while your having fun right? Be sure to store the phone number for The Mariner's Concierge: 443-531-1661. They will keep your gathering going by delivering what you need right to your boat! They also do in-cabin cleaning, catering, pet care, and more! Boating Hospitality Services right here on Kent Island!


Octoberfest in Historic Stevensville:
October 7th, 2017

An afternoon of family fun takes place in Historic Stevensville from Noon to 5 p.m. October 7th at the old Cray House lawn and surrounding areas. Bruce Navarros Backyard Blues band and special musical guest Jonathon Seeman will provide entertainment. Smokehouse Grill will be cooking up brats, pulled pork, pulled beef and hotdogs while local breweries and distilleries offer samples of their wares.
Grab a team of buddies and join in the Corn Hole Tournament, where sign ups start a Noon and the tournament kicks off at 12:30. The cost is $40 per team with cash prizes.

Crafts for kids will be provided by My Little Studio which is hosting a Root Beer Garden. An added bonus is that the towns nearby historic sites will be open for touring. This family friendly event is hosted by the Historic Stevensville Art and Entertainment District, said Ashley Chenault, Queen Annes County Tourism Development Coordinator. We look forward to bringing the community to this event to welcome in the fall. We would like to see this become an annual Kent Island event. For more information contact Ashley Chenault at 410.604.2100 or achenault@qac.org.


UCVFD Roadside Chicken & Pulled Pork BBQ Fundraiser:
October 7th, 2017

Roadside Chicken & Pulled Pork BBQ Fundraiser begins at 10AM - Cost is $10 Meal which includes your choice of half a chicken or a pulled pork sandwich, 2 sides, roll and a drink. 10 am until sold out, at United Communities VFD, 9604 Romancoke Rd, Stevensville.

2nd Annual Blue Bay Farms Festival:
October 14th, 2017

Saturday October 14th is a fun, family-friendly day on the Chesapeake Bay to support The Sweet Bay Magnolia Academy at The McArdle Center for children with autism on the Eastern Shore and beyond. Visit www.bluebayfest.com for tickets and more information.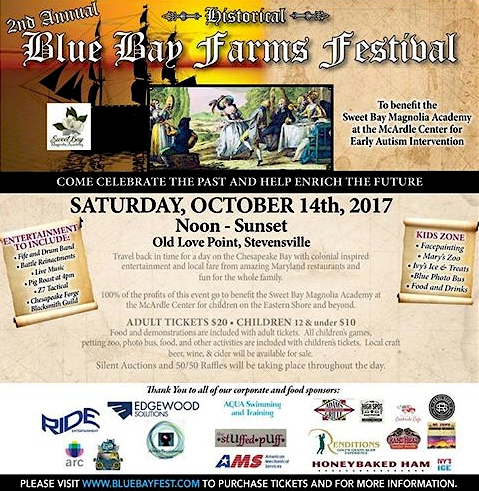 KI Elks Lodge #2576 Annual Crab Feast:
October 14, 2017

The Kent Island Elks Lodge #2576 Annual Crab Feast is October 14, 2017 from 4:00 pm - 9:00 pm at the Lodge - 2525 Romancoke Rd. Stevensville, MD 21666 and Includes a Buffett, Draft Beer, Crabs and Entertainment!

First Responder Appreciation Day Golf Tournament:
October 14, 2017

The 2nd Annual Back the Badge First Responder Appreciation Day Golf Tournament is October 14th at Queenstown Harbor Golf Course. Contact our friends at Smoke Rattle & Roll for more info...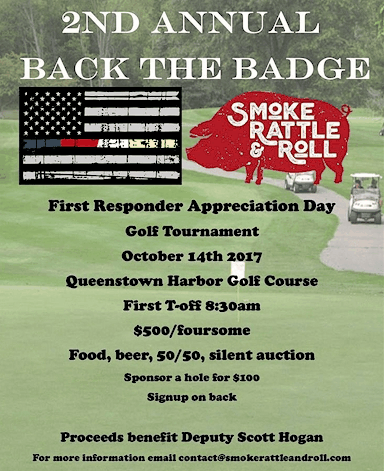 KIFA Kids Night Out:
October 20, 2017

Kent Island Federation of Arts is presenting KIDS NIGHT OUT for ages 7+ on Friday, October 20th from 6:30-8:30pm. Fun, crafts, and pizza! Click here for more information: http://www.kifa.us/childrens--classes---camps.html


Chance to win a great vacation and support mental health services in Queen Anne's County!:
October 21, 2017

Raffle tickets for a trip of a lifetime are now on sale! Winner will have the opportunity to pick from three exciting trips: wine tour of Napa Valley, sun and fun in Cabo San Lucas, or skiing in Canada. $100/chance and only 100 will be sold. The winner ticket will be drawn at Queen Anne County's Mental Health Committee's (QACMHC) Spurs & Spirits Barn Party fundraiser on October 21. Proceeds will support QACMHC's mission to support those members of our community who need assistance coping with mental illness by providing grants to local organization who provide mental health services.

For more information and to purchase raffle tickets or tickets to Spurs & Spirits Barn Party: www.qacmhc.org


Crabs for a Cure:
October 24, 2017

Tuesday October 24th at Harris Crab House is "Crabs for a Cure". Get your tickets here: https://harriscrabhouse.com/shop.php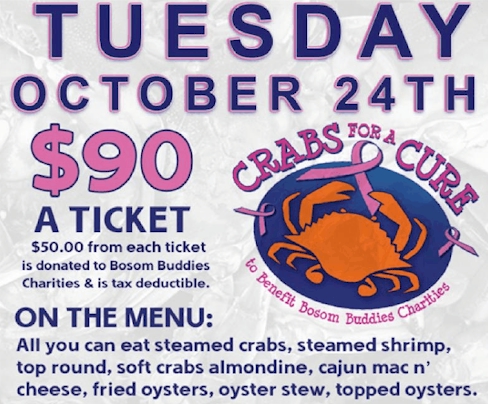 Smiles by the Bay 5K Run/Walk:
October 28, 2017

Giving the Edge Foundation Presents Smiles by the Bay 5K Run/Walk on Saturday October 28th starting at the Bay City Community Pavilion at 9AM. This event supports the Kent Island Tornado Victims. More info: https://www.eventbrite.com/e/smiles-by-the-bay-5k-tickets-37942823005


UCVFD Halloween Open House:
October 28, 2017

United Communities Volunteer Fire Department OPEN HOUSE is Saturday October 28th from 10AM-2PM and Features: Costume Contest, Firetruck Rides, Halloween Safety, Crafts, Free Food, Prizes, Moon Bounce, Unlimited FUN!! A 50/50 RAFFLE too!!!


No more 911 call busy signals on the Midshore::
Posted September, 2017

911 Dispatchers on the Midshore are joining ranks to ensure that 911 callers do not get a busy signal; instead overflow calls will roll over to another trained dispatcher in a neighboring county to insure that all calls are answered by a professional.

"About 70 percent of 911 calls come in via cell phones," said Director Queen Anne's County Department of Emergency Services, Scott Haas. "Today, after six 911 cell phone lines are in use, the caller gets a busy signal. Our partnership with Kent, Caroline, Talbot and Dorchester Counties will eliminate that problem."

This will be particularly important when there are simultaneous emergencies. For example, if there is a car accident on Route 50 with multiple witnesses calling 911, while elsewhere in the county someone is experiencing heart attack symptoms and someone else is hurt in a farming accident.

All Midshore dispatchers are trained in life safety instructions such as guiding someone through the steps for CPR, controlling bleeding and even childbirth. "The message I really want to send to the public is that if you dial 911 and the call is answered by another county – do not hang up," said Haas. "We are working together and help is on the way."


Fosters for Dogs Needed:
October 2017

Chesapeake Cats and Dogs is looking for people to foster dogs! The more fosters they have, the more lives they can save! Please click here to apply to be a foster: http://www.chesapeakecatsanddogs.org/volunteer/benefits-of-fostering/


Free Logs, both Hardwood and Pine:
October, 2017

Free Logs, both Hardwood and Pine!! Must take a Large Truck Load - Free Delivery! Also - Free Large Quanity of Wood Chips!! Must take Large Truck Load (20 Yards)!! Free Delivery - Call 410-827-5198 to be put on our list!!


NATIONAL CHILDREN'S ORGANIZATION ESTABLISHES LOCAL CHAPTER:
July 2017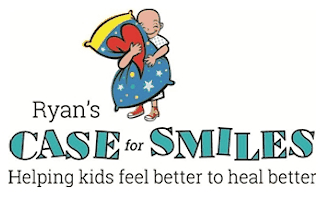 Cindy Kerr began making pillowcases for her son Ryan more than a decade ago to brighten up his hospital room and put a smile on his face during his cancer treatment. While Ryan is no longer with us physically, his legacy lives on in Ryan's Case for Smiles. Today, there are more than 120 chapters comprised of thousands of volunteers and more than 1.4 million pillowcases have been delivered. A local chapter of the organization has been established under the leadership of local resident Kristy Christman of Centreville.

Ryan's Case for Smiles (formerly known as ConKerr Cancer) is one of the few volunteer organizations solely dedicated to helping sick children cope with the stress of life changing illnesses and injuries. Providing children with whimsical pillowcases give them an emotional boost and remind them they are not defined by their illnesses. This simple gift provides proven stress relievers including distraction and hope that enhances the emotional well-being of the children and their families.

"I was inspired to become more involved with this organization after feeling it's impact firsthand. A few years ago, our middle son was hospitalized and underwent surgery. While in the hospital, his nurse gave him a brightly colored pillowcase that immediately brought him a sense of comfort and safety. It seemed like something very simple at the time, but the impact was priceless. I wanted to learn how I could get involved so after looking into the organization, I taught myself how to sew a pillowcase. I made a few and sent them in for donation. It was very easy and I felt a great sense of pride and joy that I was helping to bring comfort to a child that was going through a difficult experience. I was very excited to see that the organization needed a chapter coordinator in my area. I had been looking for a meaningful way to give back and volunteer my time, and I just knew this was the perfect fit.", said Kristy.

If you would like more information about the organization or if you are interested in volunteering or donating, please contact Kristy Christman at 443-262-6310, Email: caseforsmilesannapolisshore@gmail.com, or visit www.caseforsmiles.org

QAC Commissioners Seek Citizens for Boards & Commissions:
Ongoing 2017

The Queen Anne's County Commissioners are looking for interested county residents to serve on a variety of county boards and commissions. The appointments will commence in the coming weeks and the terms vary. Applicants must be residents of Queen Anne's County. If you have applied previously, please send a new letter of interest and resume at this time. The deadline for applications is 4:30 p.m., October 28, 2016.
The following boards and commissions are seeking members: Animal Control Commission, Board of Building Appeals, Board of Zoning Appeals, Board of Electrical Examiners, Economic Development Commission, Employee Awards Committee, Parks and Recreation Advisory Board, Friends of Historic Christ Church Board of Directors, Kent Narrows Development Foundation, Planning Commission, and the Social Services Advisory Board.
For more details about each board and commission go to qac.org, click "Government" then "Boards and Commissions." Click the title of any board or commission and full details are available, such as when and where they meet, members, etc.
If interested in serving on any of these committees, please send a letter of interest and resume to lthomas@qac.org or by mail to QAC Liberty Building, Att: Lynda Thomas, 107 N. Liberty St. Centreville MD 21617. For questions call 410-758-0322 x2003.

Kent Island Kmart Offers Military Discounts on Tuesdays:
Tuesdays in 2017

Every Tuesday Kmart on Kent Island offers military people and their families a discount. So if your active or retired stop in every Tuesday for your discount. Cashiers will have the one time use coupons. Some exclusion do apply see store for details. Kmart is located in Stevensville.


Volunteers Wanted at your Local VFD:
Ongoing

QAC Fire & EMS Commission has sounded the alarm… Will you answer your local volunteer fire department's call for help?
The Queen Anne's County Fire & EMS Commission, is kicking off October Fire Prevention Month with a Call for Volunteers to fill a variety of membership positions in both emergency response and non-emergency response roles.
The QAC Fire & EMS Commission represents all 9 county volunteer fire departments located in Church Hill, Crumpton, Grasonville, Goodwill (Centreville), Kent Island (Chester), Queen Anne-Hillsboro, Queenstown, Sudlersville and United Communities (Stevensville. The goal is to boost membership in these departments.
Here, as in most rural counties, volunteers make up 100% of the emergency fire & rescue service, and they work in collaboration with the Department of Emergency Services career EMS Units to provide medical care to the citizens and visitors. In addition to emergency response members who provide Fire and EMS services, these departments also require non-emergency response members who provide administrative services to keep the department running smoothly including bookkeeping, fundraising, recruitment, community outreach, and supporting emergency response personnel on fire scenes.
Anyone 16 or older may join their local fire company. The benefits are significant and growing. They include free training, a Maryland income tax deduction, life insurance policy, LOSAP years of service reimbursement program and insurance while on the job.
For more information or to apply for membership; stop by your local Volunteer Fire Department, visit www.qacfec.org, find us on Facebook Queen Anne's County Fire & EMS Commission or call (410) 758-6027. Join today. To view the recruitment video check out https://youtu.be/8tOMfOgSZQY.

Band Members Needed!
Ongoing in 2017

The Kent Island Community Band is currently looking for new members. We are looking for musicians who play trombone, euphonium, tuba and percussion, but all concert band instruments are welcomed. We rehearse on Tuesday evenings from 7pm to 8:30pm in the band room of the Stevensville Middle School, 610 Main Street, Stevensville, MD 21666. For more information, visit www.kicb.org or call Dee Dee Miller at 443-995-2297.